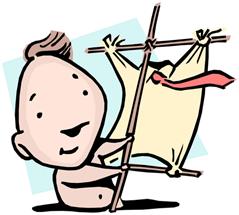 I often ask people who say "I can't," what would happen if you could?
It usually gets one of two responses.
They reiterate that they can't.
They get a quizzical look on their face.
If I get "I can't" again, I usually say something like, "Pretend for a moment that you could." What I'm going for is that quizzical look which suggests they are searching for what's possible.
I'm not looking for a manufactured "Yes I can." That has the staying power of a pep rally. My goal is to get them on a search that goes past "I can't."
Yes, "I can't" is sometimes masquerading as "I won't," but for the most part I find that "I can't" is just a mental block on what's possible.
When we focus on what can't be done, we literally put blinders on our imagination and a governor on our creativity.
Creativity often comes when we juxtapose disparate things and come up with a connection, or as 18th Century Theologian, Sir William Palmer said, "Creativity is the power to connect the seemingly unconnected."
"I can't" stops such a search right in its tracks. It's like the person who throws a wet blanket on a brainstorming meeting by interjecting why each suggestion can't be done. It stops the search every time. No search, no possibility.
I'd never ask you to stop saying "I can't," only to notice how often you say it.
Just by noticing your frequency, you begin to get an idea how often you cut off your creativity. This recognition, alone, is enough to get you curious about what's possible, which is the goal.
Start noticing how often "I can't" shows up. It's the first step to opening the door to possibility and creativity.
The only proper use of "I can't" seems to be: "I can't help but noticing."
All the best,
John
ACCOMPLISH ANYTHING
LOSE WEIGHT & KEEP IT OFF
STOP SMOKING FOREVER
SLEEP THROUGH THE NIGHT EVERY NIGHT
IMPROVE YOUR SELF CONFIDENCE
I LOVE MY BODY
RELAX IN 2 MINUTES
FEEL FOREVER YOUNG
VIRTUAL MASSAGE
'
Be Sociable, Share!