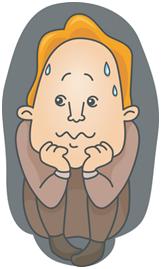 There is no bigger form of fear than feeling helpless. Helplessness neuters options and smothers hope leaving us with just unadulterated fear.
The good news is that helplessness too often has been misidentified.
When we mistakenly adjudge ourselves as being helpless, we give away any personal power we can muster to provide help.
How do we know we have misidentified helplessness? – When we offer a litany of excuses for not acting. Genuine helplessness doesn't need an excuse.
Another way to know that we have manufactured helplessness is when we are aware that many others, in very similar circumstances, have successfully acted.
"Acting" and "Action" are the operative words.
Acting helpless is what we do when we know something can be done but we claim we can't do it. Taking action is the cure for manufactured helplessness.
Action settles fear.
It's only when action is not an option that helplessness is real.
Feeling helpless? Ask yourself this: Have others in the same circumstances successfully acted? If the answer is "yes," you are acting helpless if you don't act.
The antidote for the poison of acting helpless is taking action. You don't have to climb the mountain in a day. You can take steps that take you to the foothills first and then work your way up.
You can certainly choose not to act in actionable circumstances, but you can no longer claim you are helpless.
This is more than semantics. Acting helpless gets the same result as genuine helplessness – Fear. Recognize that you have given undue power to the word "helpless" when you misuse it, and that you needlessly suffer.
Feeling helpless? If there is an action you can begin, begin it.
Again, action is the antidote for acting helpless. It removes manufactured fear and presents options to act on.
All the best,
John
ACCOMPLISH ANYTHING
LOSE WEIGHT & KEEP IT OFF
STOP SMOKING FOREVER
SLEEP THROUGH THE NIGHT EVERY NIGHT
IMPROVE YOUR SELF CONFIDENCE
I LOVE MY BODY
RELAX IN 2 MINUTES
FEEL FOREVER YOUNG
VIRTUAL MASSAGE
Be Sociable, Share!