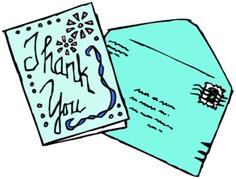 Ever get a great idea out of the blue? Did you remember to say, "Thank you"?
I was reminded of this strategy the other day when my grandson asked me to listen to a piece of music he created. He said it just came to him from nowhere.
After listening to his creation, I told him that one of my teachers, Dr. Dave Dobson recommended that when unexpected gifts like that arrived, we were to thank the part of us that sent that gift along. Dave said saying "thank you" was a way of expressing appreciation and also a way of alerting that part of our mind to "keep those cards and letters coming."
My grandson liked that idea and I thought you would too.
The practice is polite and procreative at the same time.
Does the practice work? I can't tell you that it's true; all I can say is this: I don't always remember to say "thank you" but when I do, more gifts come to me from out of the blue.
All the best,
John
ACCOMPLISH ANYTHING
LOSE WEIGHT & KEEP IT OFF
STOP SMOKING FOREVER
SLEEP THROUGH THE NIGHT EVERY NIGHT
IMPROVE YOUR SELF CONFIDENCE
I LOVE MY BODY
RELAX IN 2 MINUTES
FEEL FOREVER YOUNG
VIRTUAL MASSAGE
Be Sociable, Share!