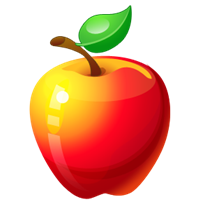 While cutting up an apple this morning, my internal voice said, "Be smart about this."
I was carelessly cutting in a direction where I could have done harm to myself when I got the directive. I switched directions with the knife and lessened the possibility of bloodletting.
Something like this happens quite often with all of us so it's rather commonplace, unless you make the discovery I did this morning.
It was the way the message was communicated. It was a directive that told me what to do – not what not to do. There is a major difference.
I'm reminded of a scene from one of my favorite movies, "Working Girl" where Melanie Griffith is walking down the streets of New York on her way to an extremely important meeting saying aloud to herself, "Don't F*** up." I remember having the thought at that time that it would be a much better directive if she had gotten a thought about what she wanted to accomplish rather than what she didn't want. Of course, that was only a movie.
What flavor are your real life directives? Do you hear what to do or what not to do? If you begin to notice and adjust, you'll be able to provide your mind with more useful information with which to work.
I come under the broad category of "people helper." The number of people who tell me what they don't want is astonishing. Just one little shift in perspective would increase their odds exponentially in getting what they do want. It's a matter of what you focus on.
When you interrupt enough "don't want" thoughts in your head and restate them as what you "do want," you train your mind to give you "do want" directives automatically.
"I don't want to be sick" is not a clear enough directive. It only says what you don't want. "I want to be well" is a much clearer target to shoot for. Yes, it would be helpful to define what you mean by "well" but this is more about getting your mind to deliver the initial "do want" directives.
It takes practice and the time spent is well worth the effort.
Just observe your mind at work and you'll hear your flavor of directives. Chances are they are mostly the "don't want" variety. I don't claim that you'll automatically get what you do want by automating this process, but you'll be steps closer.
"Don't think of the color blue" automatically has you consider the color blue. It's the way our mind works. "I don't want to be sick" has you consider sickness before you consider being well. It's an extra step that scatters your focus and delays your desire.
There are many productive uses of "don't" in therapy, communication and advertising that are topics for another discussion. This discussion is about getting into the habit of focusing your mind on what you do want.
It's the difference between apples and band aids.
All the best,
John
LOSE WEIGHT & KEEP IT OFF
STOP SMOKING FOREVER
SLEEP THROUGH THE NIGHT EVERY NIGHT
IMPROVE YOUR SELF CONFIDENCE
RELAX IN 2 MINUTES
FEEL FOREVER YOUNG
VIRTUAL MASSAGE
Be Sociable, Share!
Comments Off

on Cutting Apples