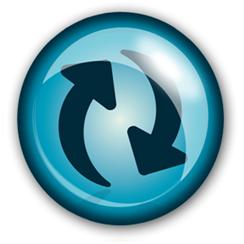 The Grasshopper* pops up at the oddest times. I was cooking dinner last night and while I was dicing onions he said, "There's no turning corners if you're going around in circles."

I had to chew on that for awhile but I knew there was something to it.
Patterns of behavior are circular. They keep coming around and they take us to the same place. Sometimes it feels like being stuck in a revolving door.
"Déjà vu! I've been here before."
Patterns are like clockwork. They are such a consistent part of our existence and woven into the fabric of our life that we just don't notice them.
You can't turn the corner with circular patterns in place. It's just not possible.
It's time for an intervention.
We need a crash course in NOTICING or the debris from our mishaps will keep piling up and keep us stuck on the beltway.
Noticing means we have to STOP for a moment and become a witness to our patterned way of doing things. We need to pause and pay attention to what we automatically do or don't do.
In these moments of pause, we get to step out of our life and view it as though we are a stranger – someone who's not involved. Did you ever notice how much easier it is to solve someone else's problem? That's the beauty of being an observer.
When you stop and notice, you pause your automaticity. In that pause, lies the strategy for turning the corner. That exit has always been there, we just haven't stopped to notice.
All the best,
John
LOSE WEIGHT & KEEP IT OFF
STOP SMOKING FOREVER
SLEEP THROUGH THE NIGHT EVERY NIGHT
IMPROVE YOUR SELF CONFIDENCE
RELAX IN 2 MINUTES
FEEL FOREVER YOUNG
VIRTUAL MASSAGE
*The Grasshopper is the knowing part of you that lets the truth slip out from time to time. Not the relevant truth but the truth that can only come from the one source of everything.

Be Sociable, Share!
Comments Off

on Going in Circles