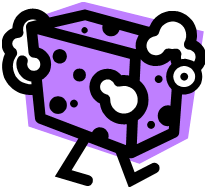 Imagine a sponge and its finite capacity for absorption. Now imagine that sponge is entirely filled with you. That's self absorption.
There is no room in your sponge for anyone else. Using the Seinfeld reference, you are the only one who is "Sponge worthy."
It's easy to see it in others. Look no further than the current news and the Tiger Woods saga – self absorbed.
Self absorbed is different than self interest.
Mother Teresa had self interest but she wasn't self absorbed. She got something out of the wonderful deeds she did. That's self interest. It's not a negative concept.
Self absorption is a wounding piece of behavior – for both the owner and those who enter their path.
When you are the only one who exists, you are blinded to the needs of others, even those who are close to you. This causes you to soak up all there is for you, and others, if they are lucky, get dripped on.
When my needs are perpetually paramount and supersede all others, I'm self absorbed.
I hurt myself by alienating those around me causing them to eventually just go away. I'm left alone to sponge bath myself.
I hurt others by continually communicating that their needs are not as important as mine.
What will it take to get you to recognize this behavior? For many, it's death's doorstep.
Self absorption leaves clues. Simply look at the number of people who mysteriously disappear from your life.
I believe we all go through a period of self absorption. How long we stay there is truly up to us.
When you discover that others aren't a satellite to your sun, it causes you to squeeze your self absorbed sponge. This makes room to soak up the needs of others which makes us more complete.
If your sponge is filled to capacity, this will make no sense to you.
If, however, it sparked some curiosity, it's close enough to that time of year to wring out the old and soak in the new.
All the best,
John
P.S. Only 4 DAYS LEFT in our HALF PRICE HOLIDAY SALE with FREE SHIPPING at http://johnmorganseminars.com
HOW HEALTHY CAN YOU BE?
LOSE WEIGHT & KEEP IT OFF
STOP SMOKING FOREVER
SLEEP THROUGH THE NIGHT EVERY NIGHT
IMPROVE YOUR SELF CONFIDENCE
RELAX IN 2 MINUTES
VIRTUAL MASSAGE
Be Sociable, Share!
Comments Off

on Self Absorbed