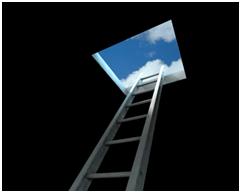 I was taught a lesson in reality last night while watching a football game – the difference between giving up and giving in.
I had given up on my team but the good news is they didn't get my memo. They didn't give in to what many fans like me may have felt – that time was too short to get a win.
I'm sure glad Thomas Edison didn't give up. I'm sure other inventors had thrown in the towel much earlier in the process. They didn't see the light that he saw.
Giving up is a state of mind; giving in is an action.
I think those that win more often than others have given up the notion of giving in while there is still time on the clock.
Some take a setback as the end of the game. That's a losing strategy. That's giving up.
Giving in only happens when reality physically surfaces. When the final whistle blows and your opponent is ahead, it's time to give in. That's called acceptance.
If the players on my team last night had adopted my give up attitude, we wouldn't have won. There is no guarantee that your attitude gets you a win, it just increases the odds.
This is not a rose colored glasses approach. This is a reality based strategy. Optimism creates options. Negativity closes doors.
This is more than the trite maxim of "Think Positive." That's a directive with no instructions. The instructions are these:
Learn the difference between perceived reality and reality itself. Perception is never reality. Perception causes us to give up well before the game is over. Odds don't win games; people do.
Remember this: If your parents' reproductive cells had listened to the odds makers, you would have never been born.
I've given in to the fact that giving up has no basis in reality.
All the best,
John
LOSE WEIGHT & KEEP IT OFF
STOP SMOKING FOREVER
SLEEP THROUGH THE NIGHT EVERY NIGHT
IMPROVE YOUR SELF CONFIDENCE
RELAX IN 2 MINUTES
Be Sociable, Share!
Comments Off

on Giving Up/Giving in