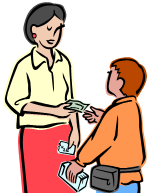 Old, as we have discussed before, lives somewhere on a continuum that's older than you are. The old axiom, "the spirit is willing but the flesh is weak" underscores that our spirit remains the same. It's vibrant and unchangeable.
My grandmother, whom I've also mentioned before, had a response to the question of "How are you doing?" She would say, "I'm getting old." She never admitted to being old, only getting there. My mother was less delicate. She would respond to the same question by saying, "Not bad for an old broad."
These people were in tune with their ageless spirit until their dying day. They recognized that old really is a mind set.
I have always had a great rapport with older women. I think it stems from a suggestion I got from my father in the 4th grade. Perhaps a story would be helpful . . .
The school I attended had a raffle each Fall and each student was required to sell tickets. After you sold your mother, father, aunts, uncles, grandparents and nearby neighbors, you had to find new customers. I was a little hesitant going out and asking strangers if they wanted to buy raffle tickets.
My father gave me the strategy that proved quite effective. Before I tell you his suggestion, I will remind you that at that time, most women did not work outside of the home. They were known as homemakers or referred to as a term that I've come to despise, "housewives."
My father said it was most likely that a woman would answer the door. He said the first question I should ask them is not, "Do you want to buy a raffle ticket for my school?" He said to ask, "Is your mother home?" He said no matter how old the woman answering the door; I was to ask that question first. I sold the most raffle tickets in my class.
I was addressing the ageless spirit in each of those women by using that piece of stealth flattery I got from my father.
It grew into more than flattery for me as I grew older. I found that I began talking with older women and men the same way I would talk to people my age. I never made them feel old. I never presupposed that because they were older, they wouldn't get what I was talking about or be offended by something I would readily say to someone of my generation.
Older people don't need to be protected. They have lived longer than you and have survived more than you can imagine. To treat them as less of a citizen because of their age is demeaning.
Also, I have come to ask older people their opinions on decisions I have been contemplating. The wisdom that pours out is priceless.
Yes, you will find older people that only want to talk about their health and prescriptions and how it used to be, but you will also find those people in any adult age group. Once you've weeded out the chronic complainers, you will find a treasure of perception that may not be readily apparent to you.
If you assume they don't know, you'll never ask and remain impoverished.
Find your version of "Is your mother home?" and discover a mother lode from someone in their "Golden Years."
All the best,
John
http://cdbaby.com/cd/johnmorgan
http://www.cafepress.com/grasshoppernote/3580301

Be Sociable, Share!
Comments Off

on Your Spirit Never Gets Old