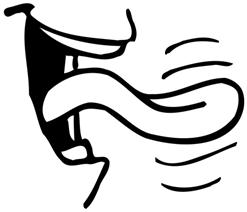 The Grasshopper had a bon mot today. He said, "Reality doesn't have any wiggle room."
Have you ever noticed how much equivocation is in an answer that requires only a "Yes" or "No"?
We have all experienced a "To the best of my recollection" response and intuitively know it's a "Cover your donkey" answer.
We look for wiggle room where none exists. We attempt to manufacture wiggle room every day on questions that only require a Yea" or "Nay."
How refreshing would it be to get an unwiggled answer?
Straight answers may not give you the response you were looking for but they are filled with actionable data – information you can trust that doesn't keep you wandering around in the dark.
"Maybe" is a wiggle room answer and creates false hope.
"Yes," "No" or "I don't know" will save everyone lots of time and aggravation.
"Yes" and "No" are self-explanatory. "I don't know," if it's a statement of fact, lets you and others know you haven't arrived at "Yes' or "No" yet.
"Wiggle Room" may be a great name for an establishment that employs pole dancers, but used as a strategy in life, it will keep you dancing around the facts and avoiding reality.
The name itself, "Wiggle Room," suggests you are not on firm footing and it's not a great way to firm up an answer.
Wiggling isn't going to go away, but each time you wiggle, know this: You are looking to delay that which you will eventually answer with a "Yea" or "Nay."
Shorten the storm by training yourself to say "Yes" or "No" and lighten the load of carrying something forward that can be dealt with now.
"Yes" and "No" are some of the first words we ever learned. What we have forgotten, over time, is how effective they can be, because if we lead others to assume, it makes a donkey out of you and me.
All the best,
John
ACCOMPLISH ANYTHING
LOSE WEIGHT & KEEP IT OFF
STOP SMOKING FOREVER
SLEEP THROUGH THE NIGHT EVERY NIGHT
IMPROVE YOUR SELF CONFIDENCE
I LOVE MY BODY
RELAX IN 2 MINUTES
FEEL FOREVER YOUNG
VIRTUAL MASSAGE
Be Sociable, Share!
Comments Off

on Wiggle Room