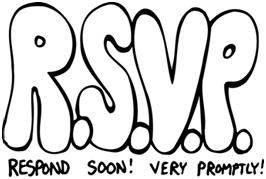 I'll admit, I've been confused with all things French my entire life, except French Fries.
I actually asked my wife when we were first married, and eating at a restaurant, what was in the French soup that I kept seeing on menus. She asked, "What French soup?" I said, "This one" and pointed to "Soup de Jour."
I think many people are still confused by how to R S.V P.
If French confuses you too, Answers.com provides this definition:
R.S.V.P. stands for the French phrase, "répondez, s'il vous plaît," which means 'please reply' or 'respond, please'.
The phrase is used in the sense of an invitation: the sender is asking for a reply indicating whether or not the invitee accepts the invitation.

Many people don't respond to invitations – especially ones to go deeper.
The offer is made time and again but we ignore it, more often than we do junk mail.
So two natural questions come up:
When do we get this offer?
What exactly is "Deeper"?
Anytime we seek the answers to any of life's dilemmas, we are being offered a choice – to act on the first reaction we have, or to let it pass and wait for something further down, making its way to the surface.
"Deeper" is that which is not readily on the surface.
We make superficial attempts to solve life's problems and are always left wanting, thinking we need more of what the surface has to offer.
"More" in the case of superficial attempts results in more of the same. It's the classic case of the poor lottery winner thinking that the jackpot will solve all of their problems. Now they are rich people throwing money at many of the same issues they had when they were poor. Money is a wonderful thing to have access to but often we use it superficially in an attempt to close a wound.
Remember the purchase that was going to make you feel better? How long did the feeling last before you were seeking some other social salve? That's the first clue that you have ignored an invitation to R.S.V.P.
We all have access to depth but not many of us go there. We stay on the surface pretending that's the only place there is. On the surface, we keep manufacturing the same answers in different suits of clothes – the answers that have never filled the hole in our soul and never will. They only scratch the surface.
The invitation to go deeper will continue to be ignored by those who believe they will figure life out. They continue to look for "thee" answer which can't be found on the surface. Truth be told, there is no one answer, just a series of opportunities to respond to life's circumstances.
When you react, you re-act the same part over and over again, getting the same results.
When you let your reactions to life go by, you go past the surface and explore the depth of your responses – ones that bring you less of the same.
Consider today's blog an invitation to go deeper. Respond if you please.
All the best,
John
LOSE WEIGHT & KEEP IT OFF
STOP SMOKING FOREVER
SLEEP THROUGH THE NIGHT EVERY NIGHT
IMPROVE YOUR SELF CONFIDENCE
I LOVE MY BODY
RELAX IN 2 MINUTES
FEEL FOREVER YOUNG
VIRTUAL MASSAGE
Be Sociable, Share!