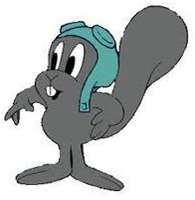 I realize that dimes have changed since "A penny for your thoughts" came into the vernacular, but most of them aren't worth any more now.
Every now and then a worthwhile thought does sneak in. It's usually in an unguarded moment when your thought machine is quiet. These are the thoughts I attribute to a part of us I call The Grasshopper.
The Grasshopper is the part of you that lets the truth slip out from time to time. Not the relevant truth but the truth that can only come from the one source of everything.
Last night The Grasshopper slipped through my guard and delivered this:
"Who I am rarely makes it into my thoughts; who I'm not, often does." (I've noticed something: The Grasshopper doesn't care about the proper use of "Who" and "Whom.")
Did you ever notice that you can have some awful thoughts about yourself in your head? It's like a political, name calling, series of ads in there. Of course, we've learned from the "Positive thinking" group that we're supposed to replace those names with positive names. I guess they have never noticed that that never works.
Who you are is not a thought. It's deeper than thought and only manifests briefly, as thought, when there are no thoughts in your mind. Who you are cannot be thought of in thought – it's too elusive. It's like the wonderful dream you awaken from that you can't remember any of the details of moments later.
Who you are not is the collection of thoughts in your head about yourself. They are repetitive thoughts that stick around. Since they are there all the time, we mistake them as valid.
Who you are doesn't stick around as a thought because as the old saying goes, "Once you label it, you lose it."
Who you are cannot be named. It's like the ancient Chinese philosopher, Lao Tzu reminded us in the opening verse of the Tao Te Ching: "The Tao that can be explained with words is not the Tao." The verse goes on to say, "We desire to understand the world by giving names to the things we see, but these things are the effects of something subtle. When we see beyond the desire to use names, we can sense the nameless cause of these effects."

Who you are can never be reduced to a name, yet we continue to engage in name calling in a misguided effort to discover who we are.
When the name calling calms down and takes a siesta, who you are arrives in full sombrero, because who you are is much bigger than your head.
You don't have to take my word for it that the names you are calling yourself are not you; just let the practice pause and notice what shows up in its place – the peace that passes all understanding.
As Rocky the Squirrel may have said, "That's who you are in a nutshell."

All the best,
John
LOSE WEIGHT & KEEP IT OFF
STOP SMOKING FOREVER
SLEEP THROUGH THE NIGHT EVERY NIGHT
IMPROVE YOUR SELF CONFIDENCE
I LOVE MY BODY
RELAX IN 2 MINUTES
FEEL FOREVER YOUNG
VIRTUAL MASSAGE
Be Sociable, Share!
Comments Off

on Who You Are