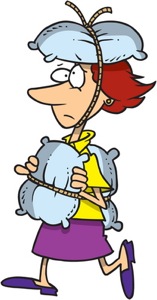 "When you defend yourself too often, it's offensive," so said The Grasshopper yesterday.
It took a day to process the message and here's one interpretation.
When we play defense all the time, we're on edge because we believe we are under attack and all our effort goes into defending ourselves. But the question we rarely ask is: "What are we defending?"
We defend the image of ourselves that we've become comfortable with, whether it brings us comfort or not. How much time do you spend making a case for yourself?
The more often you're in defensive mode, the more offensive you become. Think of the overbearing salesman who's making the same point over and over again in an attempt to get you to buy. That's how offensive we become when we defend who we think we are.
The authentic you needs no defense. It can stand on it's own no matter how offensive someone else is being.
Note: There is a difference between physically and mentally defending yourself. Defending a physical attack is prudent; mentally defending yourself is madness.
Who you think you are is a collection of past pictures you have collaged together in your mind. Who you really are is all of the pictures, not just the ones that made it to your mental cork board.
You are the whole panorama, not just the snapshot you pretend is you. But when you start defending that one image, you diminish yourself by going on offense.
You are much deeper than who you think you are. The real you is like an ocean, and the made-up you is like a thimble.
You can spend the rest of your life offending others by defending that infinitesimal part of you OR you can begin to see the big picture – that there's more to you than the surface reflects.
You can begin exploring your depths when you stop defending your limitations.
Begin to notice how defensive you are. Every time you notice and interrupt your defensive behavior, while it's happening, the deeper you become. You finally get to a point when your defensive behavior starts to fade away, just like the false image that it was based on.
In football, they say the best offense is a good defense. In life, you can win without either.
All the best,
John
VIRTUAL MASSAGE
Be Sociable, Share!
Comments Off

on Offense/Defense