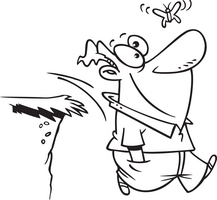 Have you ever played the "What would you do?" game?
What would you do if you won the big lottery jackpot?
What would you do if your mother and your girlfriend were drowning and you could only save one?
What would you do if you if you found out your boss was stealing money from the company, but if you told, you'd have to give back the giant raise you just received?
I'm sure your questions could be more creative than the ones I've offered, but what is the point of the game? It's to have you envision yourself in an unlikely situation and predict what you would do.
You may think you know what you would do, but that is only theoretical. What you would actually do when actually faced with those circumstances may be a lot different than you think.
So what?
It's my assertion that we too often think our way through life rather than live our lives.
That means we are dancing in our imagination and not stepping out on the dance floor.
What have you been daydreaming about for decades that you've never made one attempt at? That's escapism of the highest order. You are postponing living waiting to hit the big jackpot. You have a better chance of seeing the "Great Pumpkin" on halloween."
I think daydreaming is a wonderful thing to do to bring moments of pleasure our way. If it becomes a way of life, you have no life.
Like The Grasshopper told us earlier this year, "Life is a contact sport." That means you actually have to rub up against life to feel alive.
The question isn't "What would you do?"; the question is "What are you doing?"
What are you doing to make that dream come true? What steps are you taking right now?
If you're not moving in the direction of your dream, it's a pipe dream, and continuing to play "What would you do?" is a surefire way to make sure it never comes true.
All the best,
John
VIRTUAL MASSAGE
Be Sociable, Share!
Comments Off

on What Would You Do?