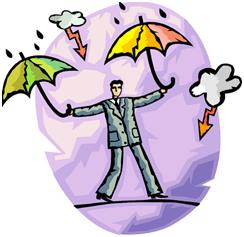 There is a lot of equivalence in the news and in the world; it acts as a distraction and delays a solution.
Our equivalence comes out when we are defending something that's not defensible.
Take the current news story of congressman, Anthony Weiner. Weiner has engaged in some questionable behavior. The news media initially castigated him for lying to them about it, and now some are defending him with equivalence.
They are asking, "If congressmen of the other party have done such deeds and were not asked to resign, why is Anthony Weiner being asked to resign?"
The argument has shifted to resignation via equivalence. The main issue is no longer the issue – questionable behavior.
My guy with questionable behavior should be able to stay in office because your guy with questionable behavior was able to. Is anyone missing the fact that they're defending the behavior in the name of fairness?
The argument is basically this: My guy is no worse than you guy, therefore he should be allowed to remain in office. The issue of whether they're fit for office gets buried in the equivalence argument.
Equivalence just changes the argument from what the issue is to another issue. It's fun theatre, but it's a diversion and it keeps the main issue buried under a mountain of equivalence.
I don't care about congressman Weiner's situation, other than it points up how we get caught up in equivalence and obscure the foundational issue.
Have you ever been involved in an argument and got so engrossed with winning that you forgot what you were arguing about? You can bet that equivalence was there cheering you on to escalate it to another level.
If you are looking for a solution, equivalence will not get you there. It will only extend the argument.
You are being sidetracked by equivalence when you buy into the myth that there is an argument that will end the argument. There isn't.
Take a breath today and find out if equivalence is alive and well in your life. If so, let it act as a reminder that you are moving away from a solution each time you use it.
To find a solution we must first call for the resignation of equivalence.
All the best,
John
ACCOMPLISH ANYTHING
LOSE WEIGHT & KEEP IT OFF
STOP SMOKING FOREVER
SLEEP THROUGH THE NIGHT EVERY NIGHT
IMPROVE YOUR SELF CONFIDENCE
I LOVE MY BODY
RELAX IN 2 MINUTES
FEEL FOREVER YOUNG
VIRTUAL MASSAGE
Be Sociable, Share!
Comments Off

on Equivalence