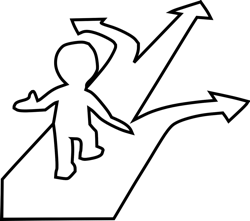 I've come to believe that there is a part of us that knows what's in our best interest. Some have called it a conscience, others a guardian angel. But whatever the name, its existence is not in doubt, at least for me.
I've found that we can make requests of that part of us. We can make broad requests and receive specific answers.
For example, if you're at a crossroads in life and you are not sure which way to go, it's time to ask that part of you for some guidance. Your request could be as simple as, "Head me in a direction." If you're a religious person, think of it as a prayer. If you're not the least bit religious, consider it an intention directed at the universe.
Then let the behind the scenes machinery do its work. Many are familiar with the Bible verse, "Ask and you shall receive, seek and you shall find, knock and the door will be open to you." Let's modernize that teaching and call it "3 Steps to Success."
To me, the foundational step in finding answers is asking. And asking the right person increases your chances for fulfillment. The right person in this case is the part of you that knows which way to go.
Make your requests on a daily basis and then just go about your business. It's my experience that answers will come to you, maybe not right away, but come they will, seemingly, from out of the blue.
You'll succeed more often by requesting more often. That means you have to ask to get the ball rolling. Get in the habit of requesting, not only of yourself, but of others as well.
Final thought: If I could head you in a direction, I would point you to the door that reads, "Ask More."
All the best,
John
Listen to the recorded version.
Make sure to download a FREE copy of my ebook: INTER RUPTION: The Magic Key To Lasting Change here.
Be Sociable, Share!
Comments Off

on Head Me In A Direction