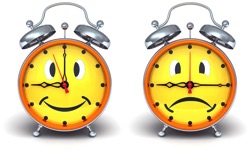 The Grasshopper had a New Year's Nugget:
"A goal without a deadline is pie in the sky."
Aside from resolutions, the new year is the setting where many set goals – ones that are rarely reached.
The missing piece is often the lack of a deadline.
My experience is there is nothing like a deadline to light a fire under a cold derrière.
Think of the person who has a hard time waking up and getting out of bed every morning. They oversleep more often than a hibernating bear and they put the grog in groggy.
Observe that same person the morning they have to catch an early plane taking them to their favorite vacation location. Bright eyed and bushy tailed they spring out of bed without having to be cajoled or hit over the head.
The plane is leaving whether you're on time or not. That's a deadline.
The difficulty with not having a deadline is that you get lulled into a false sense of having "plenty of time." You're not likely to notice the time frittering away until you smack into that last minute wall.
Here's a resolution worth making: If you set a goal, set a deadline. You're more likely to get there without having to set fire to your hair.
All the best,
John
Be Sociable, Share!
Comments Off

on Pie Slices