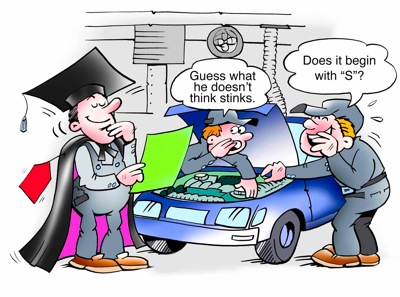 I've come up with an alternate definition for "Shortsighted": When I can easily see in you that which I don't see in me.
We're all shortsighted about something. Just notice what you notice most in others and you will have homed in on your own shortsightedness.
For me, the largest area of shortsightedness is finding flaws in others. I'm world-class at it. Within seconds of meeting someone, I know what their flaw is. I didn't work at that skill; I just own it. That's not a bad thing. In fact, it's very helpful when helping someone assess their situation and then assisting them with a strategy forward.
My skill becomes problematic when I act like I don't have the flaws I easily recognize in others. I have every one of them to one degree or another. It's when I pretend that I don't that trouble ensues. It shows up as me being superior, rather than just being the noticer.
When that happens, the person on the other end is less likely to hear my message or see my strategy because I have set up a framework where they can easily feel inferior, and they associate that feeling with me.
Just think about the last doctor that you wanted to smack and you'll instantly know what superior looks like and what your reaction to it feels like.
When I act like that superior doctor, lawyer or indian chief, I am blind to my own shortsightedness.
Shortsighted and superior both begin with "S." If you let them go unchecked, you make an "S" of yourself.
It's OK to notice someone's shortcoming; but if you dwell on it, it becomes high drama, especially if you claim to be without sin.
I don't think that I'm going to stop nitpicking others anytime soon, but I am noticing more often that I have "my stuff" too. This noticing has caused me to have regularly scheduled eye exams to keep my shortsightedness in check.
All the best,
John
Be Sociable, Share!
Comments Off

on Shortsighted