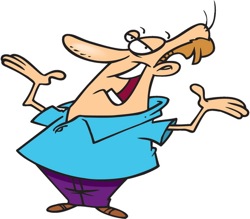 "What you know that you don't know cuts off your flow." So said The Grasshopper yesterday afternoon.
It's what we don't know that runs the show that we call, "My life."
Let's look at some well known "don't know" examples. We've all read stories about the poor athlete who made it big, or the pop singer who came from meager means, or the lottery winner who had nothing then "had it all." There is a certain percentage of people who come into money and know nothing about money management. And, sadly, it's not too long before a number of them are separated from all their money.
That's an easy example to understand. What they didn't know was their nemesis.
We all claim to know something. Oftentimes, we can't prove it, but we "know" it. That's a danger zone. This flow stopping knowing I'm speaking of is not the kind you feel in your bones, but the knowing you conjure up in your head. It's the knowing you'll argue about with no real wisdom coming out of your spout.
This type of knowing runs in the background. It's conditioning long since forgotten that hasn't forgotten about you.
Start noticing what you claim to know and here's what you'll notice: That you really don't know much.
What you know puts you in hard cement which is hard to get out of, mainly because we don't know we're in it. We think we're putting out hard and fast rules but rarely notice that they don't apply to the game of life.
What do you know that you really don't know? It takes noticing and bravery to answer that question. You'll have to muster the courage to give up many of your arguments that you've defined as you. When you notice them, you'll discover that all they have done is stick you in place. You'll also notice that what you know stops you from learning something new. The flow of new ideas won't come when the pipeline is jammed with knowing.
Famed psychiatrist, Carl Jung said it best many moons ago: "Until you make the unconscious conscious, it will direct your life and you will call it fate."
What you know cuts you off from what you don't know, and what you don't know is running your life. Wouldn't you like to know what makes you tick? A little noticing will do the trick.
All the best,
John
Be Sociable, Share!
Comments Off

on What You Don't Know