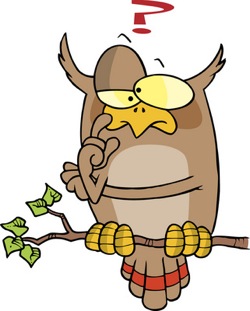 The Grasshopper paid a weekend visit and had this to say: "Amassing knowledge doesn't make you wise."
I love learning new things, especially in areas I'm passionate about. I love learning a new photography tip or getting a heretofore unknown golf tip, both of which may help me improve my performance.
But all the tips in the world, whether catalogued in countless notebooks or on my Pinterest page, don't make me wise, just informed.
I have met many people who are highly educated, some with multiple degrees, who are smart as a whip but have the wisdom of wallpaper.
There is a difference between possessing knowledge and using knowledge. The former lets you talk about things; the latter lets you do things.
Knowledge is often limited to the area it's amassed in; wisdom knows no boundaries.
Wisdom shows up more often when knowledge is owned rather than just gathered and stored. That means that you take your new knowledge and use it until it becomes second nature, not just a tidbit in your caboodle.
When you own the knowledge, it seems to seep out at the appropriate times making it wisdom.
Wisdom is also knowing when not to offer your knowledge. You may own a similar experience to what someone else is going through, but they may not benefit hearing it from you. You are wise if you know when not to be the smartest person in the room, even if you are.
This following could almost be a quote from Shakespeare: "How quick I can sometimes be, offering wise counsel to someone who doesn't need to hear it from me."
Wisdom is often the residue of consistently applied knowledge. It can also show up out of the blue with nothing to reference it to, kinda' like a blind squirrel finding an acorn.
Wisdom shows up more often when you let go of what you know and just let it come to you naturally. Wisdom is a result of mental flow, not holding in place what you know.
Final thought from personal experience: Being a know-it-all isn't a wise move.
All the best,
John
RELAX IN 2 MINUTES
I LOVE MY BODY
Be Sociable, Share!