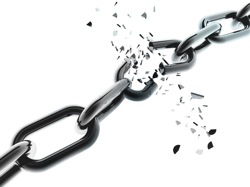 Pardon the Interruption is a popular cable TV sports show that has nothing to do with today's post other than the title.
Actually, a more accurate heading would have been: The Interruption is Your Pardon, but that isn't as familiar a phrase or as catchy.
The Grasshopper had this to offer a few weeks ago: "Interruption is the key to growth."
You get a pardon or reprieve on automatic behavior when you interrupt it while it's happening. It's the opportunity you offer yourself to go in another direction – one towards growth.
Repeating the same old pattern takes you down the same old roads; interruption offers you a new map. Your programmed GPS can only take you to the programmed location; interruption opens you to new directions.
The break in the chain of events is interruption. It is a catalyst for growth. Just about any behavior can be interrupted and each time you do so, you help yourself grow.
Growth is a process, not a one-time thing. That's why I'm not a fan of the term, "breaking patterns." The break is the initial step, not the complete solution. In order to grow, you must outgrow, and that takes repeated interruption. Each time you interrupt a pattern of behavior, you grow a little bit. String a series of interruptions together and they begin to take on a life of their own heading you down new paths to growth.
It's easier to be pardoned for your behavior if it doesn't happen. The key to keep it from happening is interruption.
If you're serious about growing, here's an easy mantra to remember: Be abrupt and interrupt!
All the best,
John
STOP SMOKING FOREVER
IMPROVE YOUR SELF IMAGE
I LOVE MY BODY
FOREVER YOUNG
HYPNOSIS FOR DOGS
CALM & COLLECTED
Be Sociable, Share!
Comments Off

on Pardon the Interruption