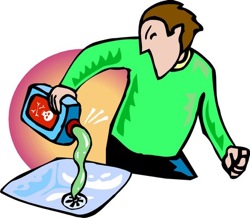 One of the best lessons I've learned so far is about fluidity. "Go with the Flow" fits well on a bumper sticker or motivational poster but like most platitudes, it lacks direction.
The alchemy for flow is more complicated than changing whine into water; it's changing solidity into fluidity.
Here are the directions:
Notice the solidity of any idea, pattern or belief that you have. "I'm a whig, I come from a long line of whigs and, by God, I'm not flipping my wig and changing now."
Now that you've noticed your rock solid belief, look for the porosity it contains. Look at it from the angle of someone who owns a different perspective. What you'll see is what you see when you examine a picture in a newspaper with a magnifying glass – a bunch of dots surrounded by space. That's noticing porosity.
If you've ever had a stopped up sink, it was probably due to a build up of solids – stuff that solidified at the bend in the pipe. There is no flow in that situation. You may have reached for something like Drano to permeate the porosity of the solid and transform it into smaller pieces so that it could break up and flow away.
Noticing the porosity of your position is an agent of change. Spoiler Alert: The noticing needs more than one application to change solidity into fluidity.
But before you notice the porosity, you have to have the realization that your ability to flow is clogged with solids. You are clogging your own drain with solids that have collected in your brain.
Look at the physical rigidity of someone who has a lot of rules. The solidity of their beliefs is playing havoc with their body. The remedy is noticing the porosity of each rule by examining it a bit more close up. But before you can do that, you have to notice that you're stiff as a board.
Noticing is the agent of change when it comes to removing the solids in your drain.
Notice, first, that your way isn't working, and then notice the porosity. With repeated application, this practice changes solidity into fluidity.
All the best,
John
VIRTUAL MASSAGE
Be Sociable, Share!