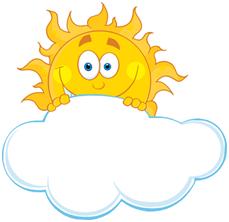 The Grasshopper went "Annie" on me this morning when he said, "Sun in the morning, angels warning."
It took me a few moments to process his offering and "Illumination" was the overarching message.
Whether the sun is visible or not, it's always present. It may be obscured by a cloud, or shining on another part of our world, but it's there.
The angel's warning is not to fall into the trap that when illumination is not shining on you that it's not available. It is.
Sometimes it gets clouded over by too much thinking, or gets crowded out by envy of others who we perceive live in a sunnier environment. You have as much access to illumination as anyone currently on earth, or who has ever lived.
Once you know it's available, it's just a matter of finding ways to sun yourself.
A quiet mind is the quickest portal I know to endless sunshine. When your mind gets quiet, you bask in the golden rays of illumination. As the Grasshopper reminded us in the past, "Serenity is the birthplace of creativity."
There are many routes to a quiet mind and if you haven't pursued one yet, I'm betting your disposition is less than sunny. Allow me to amend the words of one of the most famous sunshine sayings, "A day without orange juice is like a day without sunshine." If you substitute the word "quiet" for the words "orange juice," you have a proper warning.
If you are living under a dark cloud, I heartily recommend finding a way to a quiet mind. There are countless ways to get quiet; you just have to step off in the direction of your choice.
One of the easiest ways to begin is to take a few moments to notice what's going on in your body. The more you focus on the sensations in your body, the less focus you have for the thoughts in your mind. Do my Relax in 2 Minutes routine which requires doing an inventory of your body parts and noticing the sensations going on in each of them. It's just one of the ways to spread your blanket out on the beach and catch some rays.
Let any glimpse of sunshine act as a reminder that illumination is one less thought away.
All the best,
John
JOHN MORGAN COACHING
ACCOMPLISH ANYTHING
LOSE WEIGHT & KEEP IT OFF
STOP SMOKING FOREVER
SLEEP THROUGH THE NIGHT EVERY NIGHT
IMPROVE YOUR SELF CONFIDENCE
I LOVE MY BODY
RELAX IN 2 MINUTES
FEEL FOREVER YOUNG
VIRTUAL MASSAGE
Be Sociable, Share!