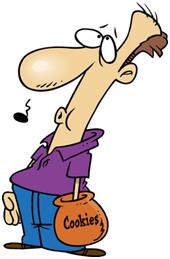 "You're not accountable for your thoughts, only accountable for your actions," so said The Grasshopper this morning.
It's amusing to me that we hold ourselves accountable over that which we have no control and avoid accountability over that which we do.
How often do you beat yourself up over thoughts you are having? That is a huge waste of energy and primes the pump of guilt.
I don't know about you but I have all sorts of thoughts from A to Z run through my head – Appropriate to Zany, and everything in between. If I take time to castigate myself for having a thought, I keep that thought in place. The best remedy I've found for letting go of a thought before it attempts to make me accountable is this phrase: "I had that thought, now I'm having this one."
This little mantra lets me focus on the process of thoughts rather than get bogged down with any undeserved guilt or shame.
There is no shame in having a thought; it can only become shameful if you act on it.
Back to accountability . . . How often do we justify our shameful actions? Just listen to any politician caught with his or her pants down or hand in the cookie jar. The accountability for their actions turns into a dance of denial. We do the same thing. We don't want to be held accountable for our actions.
This approach goes against nature. Paraphrasing Newton, "For every action there is an equal but opposite reaction." Or as the musical poet Smokey Robinson wrote, "No matter what you do or say, there is gonna' come a day, ain't nobody get away – dues got to pay some dues."
You are paying dues to a union that doesn't represent you if you're holding yourself accountable for your thoughts. If you are avoiding accountability for your actions, the universe will collect your dues one way or the other.
Final thought: Before a thought turns into an action, we have the opportunity to choose. That's accountability in action.
All the best,
John
JOHN MORGAN COACHING
ACCOMPLISH ANYTHING
LOSE WEIGHT & KEEP IT OFF
STOP SMOKING FOREVER
SLEEP THROUGH THE NIGHT EVERY NIGHT
IMPROVE YOUR SELF CONFIDENCE
I LOVE MY BODY
RELAX IN 2 MINUTES
FEEL FOREVER YOUNG
VIRTUAL MASSAGE
Be Sociable, Share!
Comments Off

on Accountability