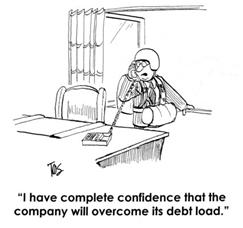 We've all been in shops where we've see this sign: "Break it and you own it." It's a reminder to handle things more carefully (especially if you have children in tow) or there is a price to pay.
The Grasshopper came up with his own version of that sign. He said, "Say it and you own it."
We pay a price when we say things we don't want to own.
The news that escapes us too often is that saying something is a deliberate action. We actually have some say in what comes out of our mouths. We may not have anything to say about a thought that pops into our head, but we have total editing capacity over what leaves our lips or our keyboards or pens.
There are consequences attached to whatever we say. Reminds me of a story . . .
I was associated for a short time with a fellow who said a lot and didn't commit. He lied as easily as most of us breathe. It wasn't shades of truth he was telling; they were outright lies. This practice lead to him owning a suspect reputation – one that I wanted no part of.
The solution to his and our problem is simple but not necessarily easy: Don't say anything you don't want to own.
There is a choice point before you say something. Notice it and take advantage of it and you won't over commit.
We've all said things we don't want to own, but the fact that we said it makes it our property. The key to going forward is to notice, in advance, that there is cement that mixes with our saliva when we say something.
Often, no response is the best response. Reminds me of another story . . .
I don't respond to emails that contain anything I don't want my name next to. They may come from dear friends or family members but I won't respond if it has something offensive to someone in it, whether it's a joke, story or cartoon that someone has sent my way. I have a choice to respond or not and I exercise the choice not to respond. I don't want to own what they're sending by resending or responding.
Remember: You do have a choice in what you say. It may be the closest thing to control that we have as human beings.
Start to notice that you have options before opening your mouth; you'll own less and be richer for it.
All the best,
John
ACCOMPLISH ANYTHING
LOSE WEIGHT & KEEP IT OFF
STOP SMOKING FOREVER
SLEEP THROUGH THE NIGHT EVERY NIGHT
IMPROVE YOUR SELF CONFIDENCE
I LOVE MY BODY
RELAX IN 2 MINUTES
FEEL FOREVER YOUNG
VIRTUAL MASSAGE
Be Sociable, Share!