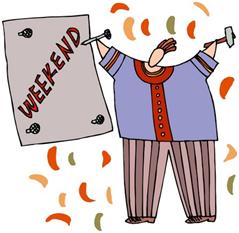 I have come to hate the phrase "Hump Day." I would use a milder word than "hate," but it wouldn't come close to how I feel about it.
For those cave dwellers, hump day is Wednesday – the hump in the work week you have to get over so that it's downhill to the weekend.
There was a time in my life when I lived for weekends and vacations. Let's do a little math. There are 365 days in the year. There are 52 weekends in a year which contain 104 days. Let's say that you also get two week's vacation and 7 holidays. That an additional 17 days off. 104 + 17 = 121 days off.
365 – 121 = 244. That means there are 244 days of waiting for the weekend. It's an awful way to live.
Living for the weekend postpones any joy you can experience in the day or, more specifically, the moment you are in.
This isn't a "Don't Worry, Be Happy" rant; it's more of a mental mirror to check out your postponement of life.
A successful life is made up of successful moments. It's that simple. If you are in suspended animation for 244 days a year, that's two thirds of your life that's on hold.
Look at the happiest people you know. They aren't living for the weekend. That doesn't mean they don't enjoy or look forward to free time; it just means they are free of the practice of postponing life. They find something in each day that keeps them delightfully immersed in living.
I don't have a step-by-step plan for you to get out from under a situation you are currently in that's causing you pain – relationship, job, etc., but I do know the first step.
Your first step is to participate in every day you are part of. If you deny a moment's existence, it will inflict more pain upon you for not paying attention. The pain of inattention is far more severe than the pain of your situation. It draws out your pain and makes it last much longer than need be.
Here's a piece of input that most people do not want to hear: If you are in a situation that's painful, it's your job to get yourself out. Stop looking for a lifeline from someone else. Only you can make it happen. The rub is that you'll find it harder to extricate yourself when you're engaged in the practice called "Waiting for the weekend."
We make our own misery when we wait for the weekend.
A useful practice to develop is to find something in each day to celebrate. It begins to focus you on life rather than the slow death your current strategy is inflicting. Celebrate something each day. When you get comfortable with that practice, add some more things to celebrate.
Celebrating is gratitude in another suit of clothes. The more you are grateful for, the happier you become. The best news is: You don't have to wait for the weekend to celebrate.
All the best,
John
ACCOMPLISH ANYTHING
LOSE WEIGHT & KEEP IT OFF
STOP SMOKING FOREVER
SLEEP THROUGH THE NIGHT EVERY NIGHT
IMPROVE YOUR SELF CONFIDENCE
I LOVE MY BODY
RELAX IN 2 MINUTES
FEEL FOREVER YOUNG
VIRTUAL MASSAGE
Be Sociable, Share!
Comments Off

on Living for the Weekend