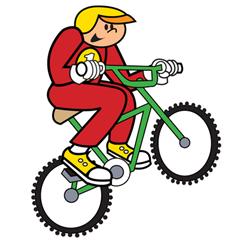 I have a confession to make. I hate hinting.
People who make me guess make me crazy.
Hinting is such a time waster, and for some people it's a lifestyle.
I will admit that there is some allure to hinting. It's a way of pleasantly teasing you towards something worthwhile. But when it's used as a dodge against digging in, it digs a hole rather than moving us forward.
Reminds me of a story . . . I was 6 years old and remember the pain of hinting. It was my first experience with it and I was the perpetrator. My friend had gotten a 3 speed bike (state of the art at the time) for his birthday and we were down at the schoolyard where he was riding it around. I really wanted to take it for a spin but never asked; I hinted. Perhaps I was acting on my politeness conditioning or being challenged by my fear of hearing "no." Either way, I didn't get what I wanted.
"That sure is a cool bike," "It must feel really neat to be riding a 3 speed" and "My parents will never buy me one of those" were some of the hints I threw out. They never got their intended result. The good news is I finally got a 3 speed a couple of years later, but didn't get to take a ride that day.
Had I not hinted, the answer still could have been "No," but the rub was I never knew for sure.
There is a surety about asking and instability about hinting. It takes reconditioning to outgrow hinting.
The field of sales is filled with hinting and it keeps many sales from being made. My old friend, Terry Butler, a sales trainer had a wonderful hint busting question: "What's your real question?"
"What's your real question?" stops hinting in its tracks and solicits actionable information from a hinter. It moves the process of transaction from hinting to what's really being requested.
My friend, Jerry Stocking requests that you make requests of everybody. He says that requests will instantly show you your relationship with the persons you are making requests of. Requesting is really relationship building.
Many people don't ask because they are afraid of finding out what their relationship is with another. They would rather pretend than ask. They remain on the periphery of relating to another by their practice of hinting.
Again, it takes some practice to outgrow hinting. The results are more honest and open relationships with the side benefit of getting what you want more often than if you hint.
Start small and work your way up. For starters, you could request more ketchup packets at McDonalds even though you don't want them. For extra credit, drive up to the takeout window, without making an order, and make the same request. See what happens when you start making requests. I think you will be pleasantly surprised by your new sales figures. But more importantly, you will strengthen your ability to relate to others.
Hinting has its place but not at the adult table. I request that you stop hinting and start building relationships. Who knows, you may be able to take something new out for a spin.
All the best,
John
ACCOMPLISH ANYTHING
LOSE WEIGHT & KEEP IT OFF
STOP SMOKING FOREVER
SLEEP THROUGH THE NIGHT EVERY NIGHT
IMPROVE YOUR SELF CONFIDENCE
I LOVE MY BODY
RELAX IN 2 MINUTES
FEEL FOREVER YOUNG
VIRTUAL MASSAGE
Be Sociable, Share!