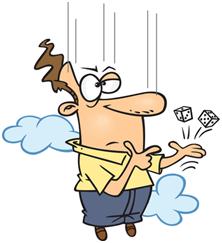 Suppose all that you've been hoping, dreaming, praying for doesn't come true? Then what?
Most of us never get to that question because we're too busy repeating the hoping, dreaming and praying that didn't work before.
We hope, dream and pray our life away by never asking, "Then what?"
It seems we never consider the option that what we want is not available to us. It's a painful point to reach. You feel alone, scared and your faith is shaken. No wonder we don't ask, "Then what?"
"Then what?" is more than a possibilities question; it's a lighted pathway away from the pain of unanswered hopes, dreams and prayers.
Most of us have a gnawing notion that what we want isn't going to happen but we keep shutting it out.
How do you open the door to the idea that your hope, dream or prayer isn't going to happen?
You first have to pretend that it won't. That means you have to mentally daydream that what you want isn't going to happen. By doing so, you put "not happening" into the realm of possibility. This isn't negative thinking or doubt; it's certainty. Make it a convincing daydream that what you want will never happen in this lifetime.
This fantasy, when repeated often enough, turns into a personal reality. You will feel the certainty of what you want never being a reality, and you will also feel the sharp pain of loss. There's no getting around it. It's "No Pain, No Gain" on steroids.
Where's the good news?
The persistent ache of unanswered hopes, dreams and prayers goes away and you can explore your next options pain free.
The only parallel I can give you is that of wading into cold water a step at a time vs. taking the plunge. The former is constant pain for however long it takes to get completely wet; the latter is complete bone chilling cold that dissipates much quicker.
"Then What?" isn't for the faint of heart; it's only for the person who's brave enough to let go of constant pain.
You won't entertain possibilities until you end the pain of a non-existent probability.
I'm not sure I yet have the courage to get to what's possible, but I'm certain I have the vehicle to get there. It's called, "Then what?"
All the best,
John
ACCOMPLISH ANYTHING
LOSE WEIGHT & KEEP IT OFF
STOP SMOKING FOREVER
SLEEP THROUGH THE NIGHT EVERY NIGHT
IMPROVE YOUR SELF CONFIDENCE
I LOVE MY BODY
RELAX IN 2 MINUTES
FEEL FOREVER YOUNG
VIRTUAL MASSAGE
Be Sociable, Share!
Comments Off

on Then What?