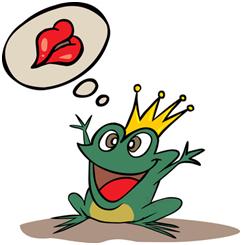 We've heard enthusiastic people say that "Anything is possible," and perhaps we scoffed. That's because we deemed the probability of that possibility to be south of remote.
Speaking of remote, back in the 1930s there was a comic strip detective named, Dick Tracy who had a two-way radio wristwatch he used to contact police headquarters. What kid wouldn't want one of those?
Toy companies made plastic replicas of that watch and sold them by the truckload to Dick Tracy dreamers.
The probability of a working model of that watch was next to impossible. I'm sure you've noticed that today's technology makes that improbability obsolete.
What's possible is based on what's probable, and if our probability quotient is too low, odds are we won't arrive at what's possible.
Reminds me of a story . . .
I remember talking to a dearly departed friend back in the early 90s and we were lamenting about being stuck. It was your standard, run-of-the-mill, "piss and moan" conversation until I said, "You know what our problem is, Dick? We've stopped dreaming."
What I discovered that day is that our notion of what's probable has to increase before we can even think about doing the impossible.
Thomas Edison was a dreamer. You're idiot brother-in-law is a dreamer. What's the difference?
Your brother-in-law just piles one dream upon another and never takes action.
Dreaming is a way around the logic of statistics. A cynical logician may state, "If people waited until they had enough money to get married, there would be less divorce." The lyrics from an old song aptly point out that dreamers forge ahead.
"Fools fall in love just like schoolgirls, blinded by rose colored dreams. They build their castles on wishes, with only rainbows for beams."

Upon inspection, it seems the secret formula for achieving the impossible has little to do with statistics and more to do with dreaming past logic.
Increase your possibility quotient by taking some time to dream. Make "What if?" your daily mantra and "What step in that direction can I take now?" your daily action plan.
Finally, let me leave you with a dose of logic: It's highly improbable that you'll attain what's possible if your dream machine has left the scene.
All the best,
John
ACCOMPLISH ANYTHING
LOSE WEIGHT & KEEP IT OFF
STOP SMOKING FOREVER
SLEEP THROUGH THE NIGHT EVERY NIGHT
IMPROVE YOUR SELF CONFIDENCE
I LOVE MY BODY
RELAX IN 2 MINUTES
FEEL FOREVER YOUNG
VIRTUAL MASSAGE
Be Sociable, Share!
Comments Off

on Probability – Possibility