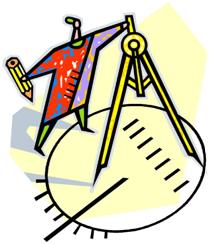 What may be a problem for you may not be to someone else. Problems are relative.
"Relative to what?" you ask. They are relative to your perceived position.
Our viewing angle is 360 degrees. We tend to view our problems from the same angle, give or take a few degrees each time.
Rarely do we take an opposite or different angle of approach.
Our problems stay right side up if we refuse to turn them upside down.
We are conditioned to look at the same situations the same way each time.
We have the same conversations in our head as we did the last time and we come up with the same solutions that didn't work before.
What's not working in your life is a problem. The main reason you aren't getting solutions is because you are stuck on the same angle of approach.
Dieting is my favorite example simply because so many people can relate to it. When you go on a diet, you have the same conversation in your head you had the last time – the same solution. For example, you may decide that you're not going to eat sweets anymore. After all, you lost weight the last time you employed that strategy. You seem to forget that you like sweets and eventually will go back to them.
Sweets aren't the problem; your weight is the problem. Your solution is to look at that problem from the same angle of view. We have 360 angles to approach from, but we default to the same angle we used the last time.
I don't know the specific answer to your problem, but I do know this: You do.
You just haven't taken the time to move around the circle and take a look from a different angle.
If you just notice that you're approaching something you've failed at before from the same angle again, you are at the doorstep of real change. It's this noticing that will prompt you to move your position and look at your problem from a different angle.
If we want to stop going around in circles, it's helpful to adopt a different angle of view.
All the best,
John
LOSE WEIGHT & KEEP IT OFF
STOP SMOKING FOREVER
SLEEP THROUGH THE NIGHT EVERY NIGHT
IMPROVE YOUR SELF CONFIDENCE
I LOVE MY BODY
RELAX IN 2 MINUTES
FEEL FOREVER YOUNG
VIRTUAL MASSAGE
Be Sociable, Share!