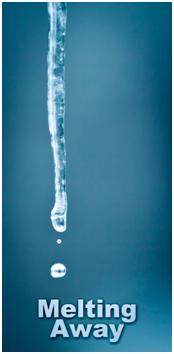 "These little town blues are melting away." So sings Frank Sinatra in New York, New York.
The song is more about new starts than it is about New York. In order for new to begin, old has to melt away.
Sometimes the transition from old to new is abrupt and that can be painful. When the past slowly, but systematically, drips away, the conversion is more permanent.
The area of weight loss is the prime example of how drastic changes rarely last. Most dieters go on a monastic diet, and are successful in rapidly losing weight. They are equally successful in gaining it back. Just monitor the long-term progress of contestants of "The Biggest Loser" or any one of Oprah's diets to validate this for yourself.
Melting away the past has better odds of success and it takes longer than most people are willing to wait.
If you snap an icicle, it still exists; it's just in a different location. When it melts away, its residue finds its way down the drain, and there is much less pain.
We aren't a very patient people. The systems are in place for us to succeed, but our desire to make change quicker than the system allows has us throw logic out the window.
The answer to "How do I speed up winter so it doesn't last as long?" is "Move to Florida."
If you are making a new start, it helps to begin slowly and build on your success at regular intervals. When you apply this method, you get to the dripping point much quicker. This is when a "Snowball's chance in Hell" is a good thing.
All the best,
John
LOSE WEIGHT & KEEP IT OFF
STOP SMOKING FOREVER
SLEEP THROUGH THE NIGHT EVERY NIGHT
IMPROVE YOUR SELF CONFIDENCE
I LOVE MY BODY
RELAX IN 2 MINUTES
FEEL FOREVER YOUNG
VIRTUAL MASSAGE
Be Sociable, Share!
Comments Off

on Melting Away