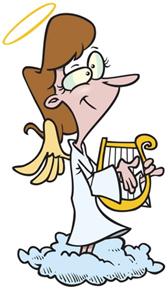 From a spiritual perspective, it doesn't seem that heaven should have a caste system, but my version of it does.
My opinion is that some folks should enjoy each other's company in the afterlife, separate and apart from the rest of us.
My reasoning is sound. If we were in that section of heaven, we would think we were in hell.
Who deserves to be in that special place in heaven? Here is a partial list:
    *People who leave their shopping carts in the middle of the parking lot. (Did you ever notice that they yell the loudest when their car gets hit by one?)
    *Union leaders who take a paycheck while their members go on strike.
    *Anyone who asks you for money so they can pray for you.
    *Any professional announcer who pronounces the word "forward" as "FOE-ward."
    *A politician that calls what they do "Public Service." They get paid.
    *Anyone still watching "Survivor."
    *Any man under 50 who refers to his spouse as "The wife."
    *Anyone who forwards me an email that I have to forward to someone else to get a special blessing.
    *People who talk with their mouth full.
    *Anyone still blaming their parents.
I realize this list of deserving people is not all inclusive. It's just a thought starter. Please feel free to compile your own list of candidates who deserve a special place in heaven.
If I have sinned by offending anyone with my list, thank God. That means I won't be going to that special place in heaven.
All the best,
John
LOSE WEIGHT & KEEP IT OFF
STOP SMOKING FOREVER
SLEEP THROUGH THE NIGHT EVERY NIGHT
IMPROVE YOUR SELF CONFIDENCE
I LOVE MY BODY
RELAX IN 2 MINUTES
FEEL FOREVER YOUNG
VIRTUAL MASSAGE
Be Sociable, Share!
Comments Off

on Special Place in Heaven