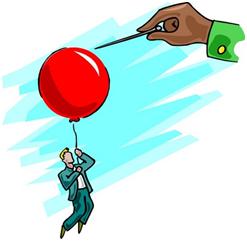 We've all participated in bubble bursting. We've either done it or it's happened to us.
What is the result of bubble bursting? It's the inability to hold a particular belief anymore.
The Grasshopper injected this into a conversation the other day: "Anytime you put a pin in someone's belief bubble, you get an outpouring."
Sometimes a bubble burst results in an "ah-ha," but most often no "ha, ha" is present.
It can be a painful experience to have your bubble burst.
Beliefs are a set of patterns that help us negotiate the world we live in. When someone or something pricks our world with a sharp, pointy object, we're going to gush.
If our belief is like a boil that need to be lanced, we experience pain, then relief. We are on the road to recovery.
It's more difficult to recover when someone bursts your piñata that was filled with all the sweet treats of life. Your goodies are snatched up and scattered to the four winds.
Oftentimes it's a "D" word that causes our bubble to burst. Death, Defeat, Demise, Deception and Divorce immediately leap to mind, but there are many others throughout the alphabet.
The recovery phase of an operation has little to do with investigating the cause. In fact, staying focused on the cause is as effective as breathing air into a balloon that's already burst.
Recovery is forming new beliefs, not dwelling on the ones that can no longer hold air.
If your sweet bubble has burst, I'm sorry for your loss. I won't lie and tell you that I feel your pain because nobody can.
What I can offer is a path forward. It starts with baby steps.
The first step is to let go of "why?" You'll never get an answer that will satisfy you or move you forward.
The next step is to breathe in some new life. That means to recognize you can be filled up with another substance. Warning: The minute you begin to compare and contrast it with what you had, you pop your new balloon.
The ever present question you want to ask yourself is: "How can I be happy now?"
The answers you get are habit forming and bursting with promise.
All the best,
John
LOSE WEIGHT & KEEP IT OFF
STOP SMOKING FOREVER
SLEEP THROUGH THE NIGHT EVERY NIGHT
IMPROVE YOUR SELF CONFIDENCE
I LOVE MY BODY
RELAX IN 2 MINUTES
FEEL FOREVER YOUNG
VIRTUAL MASSAGE
Be Sociable, Share!
Comments Off

on Bursting Bubbles