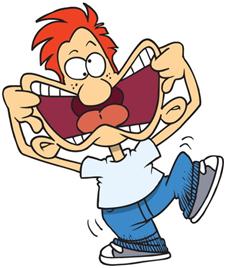 Back in August of 2009 I wrote a blog post about the 4 Signs of Immaturity. Thank God I didn't say the list was all-inclusive because I've found another one – undependability.
Yesterday, The Grasshopper delivered this: "Learning to be dependable is learning to be an adult."
Sidebar: I'll admit that "adult" can be a polarizing word depending on one's maturity level. If the lyrics in your head are "I won't grow up" from Peter Pan, or you're still singing "I don't wanna' grow up; I'm a Toys 'R Us kid" from the TV commercial, adulthood is something you're still rebelling against.
Being dependable is a mark of maturity. There is nothing more satisfying to me than dealing with people who do what they say they are going to do. I am reminded every day why Werner Erhard's quote is one of my favorites. "The reason life doesn't work is because people don't keep their agreements."
If, more often than not, you agree to do something and you don't follow through, you are undependable and locked in by another sign of immaturity.
Yes, we all forget from time to time that we agreed to do something that just slipped our mind. That's a far cry from the slippery slope of undependability.
We expect children, teenagers and young adults to be immature because maturity is a learning process. Those who learn maturity become dependable; those that don't have earned their soiled reputation.
Please don't confuse maturity with success. There are many people who are successful who are not dependable. They are generally the people you refuse to do business with again. They may have all the talent and expertise to do the job, but their lack of maturity makes their delivery schedule and them undependable.
It's never too late to become dependable. It's a process that takes regular practice in doing what you say you will do. Once learned it becomes second nature and will come to you naturally.
If you are serial disappointer, start small and follow through. It will serve as a stepping stone on the pathway to maturity.
Also, it's helpful if you keep your lips zipped. The telltale clue of undependability is a grandiose litany of what you're going to do. Don't over promise because you'll always under deliver.
If you are undependable, you are immature and you will continue to be less than you can be.
You'll know you've reached maturity when you can confidently say, "You can depend on me."
All the best,
John
LOSE WEIGHT & KEEP IT OFF
STOP SMOKING FOREVER
SLEEP THROUGH THE NIGHT EVERY NIGHT
IMPROVE YOUR SELF CONFIDENCE
I LOVE MY BODY
RELAX IN 2 MINUTES
FEEL FOREVER YOUNG
VIRTUAL MASSAGE
Be Sociable, Share!
Comments Off

on Dependable