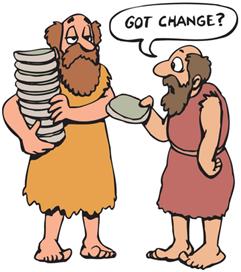 A.S.K. is an acronym I came up with years ago that capsulizes the biblical guidepost that reads, "Ask and it will be given to you; seek and you will find; knock and the door will be opened to you."

I was going to write a book about "A.S.K.-ing" but was too lazy. I did write a blog post on GIVING & RECEIVING last October which contained ASKING, but it didn't go far enough.
Ask yourself this: "As an adult, how much manna has fallen out of the sky into your life?" If you're anything like me, those feedings have been few.
I'm embarrassed to admit that there is a part of me still waiting for someone to knock on my door and hand me a basket full of fruition. That's the part I have labeled as "Delusional."
What you receive in life really boils down to this – ASKING!
What keeps us from asking others for what we want?
Fear that they won't give it to us seems to be the #1 answer.
We not only fear not getting what we want, but also what others will think of us for asking for it. Perhaps they'll think we're pushy, selfish, high maintenance, imposing, not entitled or not worthy.
Here's the secret: Asking has far little to do with being selfish and much more to do with survival.
You have to ask for what you want in life or you will spend a lifetime wanting.
There are only three possible answers to asking – Yes, No or Maybe. (Note: the "Maybe" answer is mostly "No.")
We have a phobic fear of "No." Most of that can probably be traced back to it being a major conditioning word we received as a child. "No" means something "Bad."
We'll do anything to avoid hearing "No," which is a major contributor to us not asking.
Not asking for what we want is an epidemic. Taking what we want without permission is not the answer. That always leads to conflict.
We do so many things to avoid asking; the least effective being "Hinting."
The answer to getting what you want is to ask and ask specifically. Also, get in the habit of asking the people that can help you, not the ones who will only commiserate with you.
You can live your life with a bruised ego but it's more difficult living a life where you don't get what you want.
I'm asking you to ask because receiving begins with asking.
All the best,
John
LOSE WEIGHT & KEEP IT OFF
STOP SMOKING FOREVER
SLEEP THROUGH THE NIGHT EVERY NIGHT
IMPROVE YOUR SELF CONFIDENCE
I LOVE MY BODY
RELAX IN 2 MINUTES
FEEL FOREVER YOUNG
VIRTUAL MASSAGE
Be Sociable, Share!