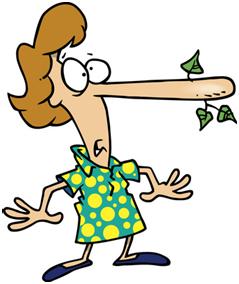 "Liar" is a powerful word, and the truth is, we all lie. We are all liars.
Sometimes we lie to spare someone's feelings and we've given that the name of "White Lie." Most times, though, we lie so that we don't die.
Most lies are used to prop up an image we have of ourselves – one that we made up and got comfortable with. When a piece of factual data comes along and threatens that image, we do everything in our power to keep that image intact. This involves obfuscating – a fancy term for lying.
We lie so that our image doesn't die. Our façade is usually so flimsy that it can't stand on its own, so it needs to be propped up. The most used props are lies.
My sense is that "Psychological Death" is scarier than physically dying simply because we expend more effort keeping our psychological self alive. We have so much wrapped up in who we think we are that any peeling away of that image sends shockwaves of fear through our body, every day.
But die we must.
Our image is a creation of our imagination. Our image doesn't really exist; it's only a construct of our mind. We are lying to keep alive that which doesn't exist. Now that's crazy!
Just take a moment and consider the lies you've told or are telling. No one needs to hear your confession but you. What you'll notice is that you are lying to protect something – something that doesn't exist – your image of yourself.
I don't think we're going to give up lying anytime soon, but I do think it's helpful to plan our funeral. That means to notice "why" you lie.
Every time you notice that you lie to protect your image, you whittle away one of the props. One day that image will fall and you will find who's been hiding behind that image all these years – YOU!
"Truth or Consequences" is more than an old TV show or a town in New Mexico; it's a natural law that applies to lying. The consequence of lying is to drain your energy by fearing death on a daily basis.
If you get in the habit of noticing your lies, it will do two things:
Free up the energy you've been using to keep a lie alive so you can fuel a less scary life.
Get you closer to finding the "You" behind the curtain – a magical discovery.
And that's the truth!
All the best,
John
LOSE WEIGHT & KEEP IT OFF
STOP SMOKING FOREVER
SLEEP THROUGH THE NIGHT EVERY NIGHT
IMPROVE YOUR SELF CONFIDENCE
I LOVE MY BODY
RELAX IN 2 MINUTES
FEEL FOREVER YOUNG
VIRTUAL MASSAGE
Be Sociable, Share!
Comments Off

on Lie or Die