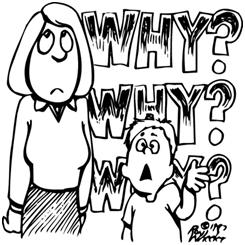 One of the marks of maturity is to stop asking "Why" questions.   
"Why did this happen to me?", "Why do I always do that?", "Why does my mother like my sister more?" and "Why can't they do anything right?" are just a few examples of the whimsy of "Why."
"Why?" is always a wimpy question that always comes with an unreliable answer. That's the reason why "Why" doesn't work; it provides faulty data with which to work. Reminds me of a story . . .
Back in my radio daze I was doing a DJ dance at a ski lodge. It was coming to the end of the evening and people were, as the song says, "Dancing on the Ceiling." I announced that I had time for only two more songs. This poor soul who had been standing on the sidelines all night came up to me and said he had a request for one of the last two songs. I asked him what he wanted to hear. He replied, "Why Me, Lord?" For those unfamiliar to the song, it's a Christian, Country Song by Kris Kristofferson.
I told him I wasn't going to play that song and he wanted to know why. I attempted to explain that I wanted to keep the festive mood going and that song would put out the fire. He wanted to know why. Every attempt at an explanation was returned with the question, "Why?"
People who continually ask "Why?" have no clue that the answers they get will never work for them, yet they continue to ask the question.
"Why?" questions provide the questioned party a license to create, and create we do. "Why aren't you doing better in social studies?" "Because the teacher doesn't like me," "Because everyone in the class is failing," "Because my seat's too far away from the window" and the list goes on and on.
The only answer that works for a "Why" question is a one word answer – "Because." See my blog post from April 14, 2008 for more on that.
The focus today is to provide a strategy for us to grow. "Why" takes us off course and stunts our growth. The person who asks "Why?" will continually be disappointed because the answers only provide more questions. It's a never ending ride to nowhere.
"Why?" doesn't work. Ask any parent of a 4 year old if they've ever come up with an answer that keeps the child from asking "Why?"
The key to growing out of the immaturity of "Why" is to notice how often you ask the question.
Each time you notice, you move a little further away from "Why" and closer to some actionable data that will help you grow.
All the best,
John
LOSE WEIGHT & KEEP IT OFF
STOP SMOKING FOREVER
SLEEP THROUGH THE NIGHT EVERY NIGHT
IMPROVE YOUR SELF CONFIDENCE
I LOVE MY BODY
RELAX IN 2 MINUTES
FEEL FOREVER YOUNG
VIRTUAL MASSAGE
Be Sociable, Share!
Comments Off

on Why "Why" Doesn't Work