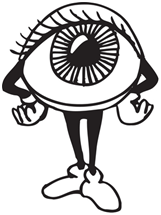 Here is a question worth pondering: Are you conscious of your subconscious?
The answer to the question is revealed when you begin to notice the function of each.
Consciousness, or being aware, is the hallmark of being conscious. That means that your conscious mind observes, asks questions, makes suggestions and formulates plans.
Your subconscious is a reactive mechanism. It's a reservoir of conditioned routines. It reacts to stimuli and doesn't think. Consciousness, on the other hand, does lots of thinking.
The conundrum is this: We think we can think our way out of our routines. We cannot. We must act our way out of our routines. That means to become aware of our reactive behavior and act on it.
Most people dismiss their automatic behavior as "just being me." "Being me" is not a conscious choice; it's a patterned reaction. The "you" that you think you are, and often defend to the high heavens, is nothing more than a collection of routines that have a mind of their own.
I saw a group on Facebook recently that underscores how thinking who we are is fraught with flagrant, phony logic. It goes something like this: Thinking that being in a house of worship makes you good is like thinking that standing in a garage makes you a car.
As silly as that seems, that's the reality of how we define ourselves. We become blind to our reactive patterns and defend not changing.
You can dig your heels in some more and get more of the same, or you can become conscious. One method is filled with a lifetime of being on the witness stand; the other leads to something new by becoming aware of what we do.
You are where you are in life by the collective actions you have taken. Many of these actions have been reactions that take you to the same place.
The path to someplace new begins by noticing that your reactions do not do.
Making the unconscious conscious has been the goal of therapy since the time of Freud. But much of modern day therapy is too much talking and not enough doing. We think we are talking about who we are when, in fact, we are defining a conditioned image and ignoring the actions that formed it.
Making the unconscious conscious begins with noticing what we do. Your actions define a "you" that you think doesn't exist.
Make it a point to start noticing what you do. It will help you to react less and act more.
When you become conscious, you truly begin to appreciate the old axiom: "Actions speak louder than words."
All the best,
John
LOSE WEIGHT & KEEP IT OFF
STOP SMOKING FOREVER
SLEEP THROUGH THE NIGHT EVERY NIGHT
IMPROVE YOUR SELF CONFIDENCE
I LOVE MY BODY
RELAX IN 2 MINUTES
FEEL FOREVER YOUNG
VIRTUAL MASSAGE
Be Sociable, Share!
Comments Off

on Got Consciousness?