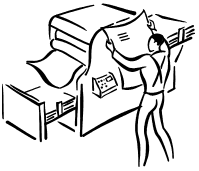 Here's a little "Pie in the Sky" question. What would you like to see in tomorrow's headlines?
Now, that you've considered an answer to that question, here's another: What would you like to see in tomorrow's headlines concerning you?
These sorts of questions can produce daydreams that are fun to entertain.
What's one thing that most of us never consider that's necessary to make either of these daydreams a reality?
Answer: The action that must happen now.
Now is the only time you have the ability to take action. Yesterday's gone and tomorrow's not here yet. The action point is always now. Now is the time to make headlines.
If you take more time to ponder what you want the headline to be, you have delayed action again and tomorrow's headline will be the same as it is today.
If you remain scared of your own shadow and delay action again, you'll be stuck reading the "Groundhog Times" – a newspaper or blog whose headline never changes.
You can wait for the winds of circumstance to change and blow something new in your direction, but if you chart out the frequency of the favorable wind gusts that have blown your way in the past, the statistics indicate it will be a long wait.
You can wait for a headline or you can cause a headline. The catalyst of causation is always action.
What action can you take now that will cause tomorrow's headline?
Daydreaming can bring the headline into focus; action will get it on the front page.
I don't think the disconnect between daydreaming and action has gotten enough press. It's the linking of the two that produces tomorrow's headlines.
What will Clark Kent or Lois Lane be writing about tomorrow? You, if you put a dash of action in your daydream.
What action can you take today that will make them say, "Stop the presses!"?
All the best,
John
LOSE WEIGHT & KEEP IT OFF
STOP SMOKING FOREVER
SLEEP THROUGH THE NIGHT EVERY NIGHT
IMPROVE YOUR SELF CONFIDENCE
I LOVE MY BODY
RELAX IN 2 MINUTES
FEEL FOREVER YOUNG
VIRTUAL MASSAGE
Be Sociable, Share!
Comments Off

on Tomorrow's Headline