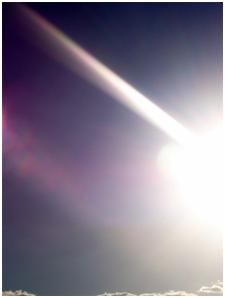 How do you know when to pay attention to something that comes from out of the blue?
Have you ever been struck with an idea that just seemed so right? You weren't thinking about it but there was a part of your mind working on it and delivered it when you least expected. That's what I'm describing as "out of the blue."
The whole concept of my weekly Grasshopper Note is based on "out of the blue moments."
It's as though someone else, besides you, is delivering the message.
So how do you know if it's something to act on or not?
It's a matter of training your feeling apparatus to differentiate between "impulse" and "inspiration."
My sense is that it feels different for everyone, but as a barometer, this is what happens with me.
When I get something unexpected, I pay attention to the feeling. If there is "excitement" attached, it's usually an impulse. "Yeah, I should buy that high end camera that's not in the budget."
Inspiration usually has a warm feeling for me, not "white hot" like impulse. There isn't any debate for me when inspiration arrives. Impulse always has me going back and forth as to whether to act or not.
Inspiration wants to be shared; impulse wants to be enjoyed.
There is a curiosity generated with inspiration; impulse wants action.
I'm thankful for both impulses and inspiration and I'm delighted that I can tell the difference.
It seems that impulse comes from conditioning, and inspiration is an unconditioned thought. They both have feeling components. That's how to tell the difference. Find out what those feelings are for you.
There are two benefits to knowing the difference:
You'll have the peace that goes along with inner knowing.
Your credit score will remain high.
Impulse or Inspiration? Check with your body before acting and know for sure.
All the best,
John
LOSE WEIGHT & KEEP IT OFF
STOP SMOKING FOREVER
SLEEP THROUGH THE NIGHT EVERY NIGHT
IMPROVE YOUR SELF CONFIDENCE
RELAX IN 2 MINUTES
VIRTUAL MASSAGE
Be Sociable, Share!
Comments Off

on Out of the Blue