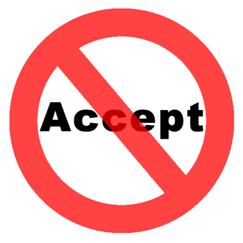 The Grasshopper visits at the oddest times. I was retiring for the evening and reading a book about photography when I heard him say this:
"You cannot not accept reality."

It then became clear to me that the choice of acceptance is an illusion.
There is no choice. We made it up.
Reality is always accepted because there is no other real option. If you say you don't accept something that has happened, think for a moment how crazy that is.
Acceptance is synonymous with reality. Reality doesn't have an opposite, and neither does acceptance.
When you say you cannot accept something, you are playing a head game that has nothing to do with reality.
"I cannot accept that my daughter has married a _________." (Fill in with your favorite prejudice)
The reality is your daughter married that person. There is nothing to accept. It happened no matter what your head tells you is "unacceptable."
When you believe there is a choice about not accepting reality, you have fallen into a very dark hole – one that's difficult to accept.
Don't accept what I tell you on faith. Investigate it in your own life. What reality are you resisting? That's called, "non-acceptance." You are resisting that which reality has already accepted. Sorry, you weren't consulted because you have no say whatsoever – other than to play the head game that you have a choice.
When you say you cannot accept something that has happened, you are denying reality and living an illusion.
You certainly have the choice not to like something that has happened, but that has nothing to do with acceptance. I don't like that there are evil people in the world, but I accept it because it's a reality.
"Unacceptable" is a report on what you don't like, but it never has anything to do with true acceptance which is recognizing reality.
All the best,
John
HOW HEALTHY CAN YOU BE?
LOSE WEIGHT & KEEP IT OFF
STOP SMOKING FOREVER
SLEEP THROUGH THE NIGHT EVERY NIGHT
IMPROVE YOUR SELF CONFIDENCE
RELAX IN 2 MINUTES
VIRTUAL MASSAGE
Be Sociable, Share!
Comments Off

on The Illusion of Non-Acceptance