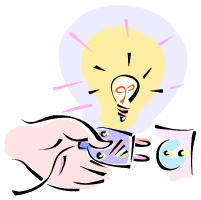 Who hasn't experienced sparks?
They happen when something or someone sparks an idea or a feeling.
The world owes a debt of gratitude to sparks. They not only ignite us to action; they also alert us to danger.
A spark from an informed source or a partially connected wire has something else in common – a loose connection.
If we got the whole idea, it wouldn't be a spark; we would be completely connected.
If we see sparks flying from a partially inserted plug, there's not a completed connection.
Look at sparks in relationships. They capture our interest at the beginning and end of one. When sparks fly at the beginning, we are not yet deeply connected; we're just mesmerized by the sparkle which oftentimes draws us forward to make a deeper connection. If we do make a connection and the connection comes loose, the sparks fly again, but this time they may urge us to pull out.
Some people live their whole lives experiencing only sparks. It's much like the rap against most advertising – "All sizzle and no steak," or as they say in Texas, "All hat, no cattle."
Living on sparks is a dangerous existence. Some folks live their whole life on the spark of tomorrow, and tomorrow never comes.
Some attempt to live on the cultural spark which has them believe that maybe it's the next new thing or experience that will give them the connection they're longing for.
I love sparks. I also love garlic. I can't live on either one. Both would shock your system.
If your spark doesn't get you to push in deeper or pull out completely, you've missed the purpose of sparks. They are catalysts, not lifestyles.
Perhaps you haven't noticed that sparks and superficial also start with the same letter. They also share a common bond – loose connections.
Here's a rule of thumb: If your interest isn't sparked enough to go deeper, it's time to pull out.
Investigate all the sparks that come to your attention, just don't mistake them for anything other than what they are – loose connections. Only you can decide if they're worth plugging all the way into.
All the best,
John
HOW HEALTHY CAN YOU BE?
LOSE WEIGHT & KEEP IT OFF
STOP SMOKING FOREVER
SLEEP THROUGH THE NIGHT EVERY NIGHT
IMPROVE YOUR SELF CONFIDENCE
RELAX IN 2 MINUTES
VIRTUAL MASSAGE
Be Sociable, Share!