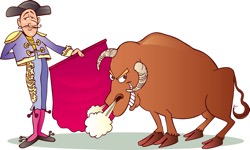 If there are two bigger resolution killing words than "I'm gonna," I haven't heard them yet.
The boulevard of broken promises begins with "I'm gonna."
Reflect for a moment on past failures that began with these two words.
"I'm gonna be a millionaire by the time I'm 40."
"I'm gonna go to the gym 5 times a week."
"I'm gonna lose 30 pounds by Christmas."
Don't tell yourself or anyone else what you're "gonna" do; tell them what you're doing.
"Doing" is active and in the present; "gonna" is future based and promised to no one.
Any list of resolutions are wishes until actions take place. Action can only take place in the moment you are in.
Just a subtle shift in language from "gonna" to "doing" gives you a much better chance of fulfilling your wish.
Side Note: If you've added a start date to your "I'm gonna," it's doubly insured to fail.
"I'm going to start my diet on Monday" is a red flag that predicts a lot of bull will follow. Here's a clue: If it's not important enough to start now, it's not important.
Please don't tell yourself or anyone else what you're going to do. Demonstrate what you're doing. It's a much more accurate predictor of success.
I was gonna write this blog post on New Years day but I didn't.
All the best,
John
Be Sociable, Share!
Comments Off

on I'm Gonna