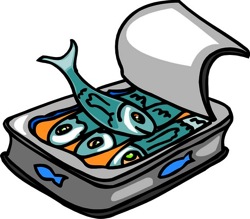 How dense are you? It sounds like a pejorative question, but upon closer inspection it is requesting a factual assessment.
One dictionary definition of dense would be "tightly packed." "How tightly packed are your ideas and beliefs about something?" is a question that's asking you to reflect and inspect rather than cornering you into a defensive posture.
Tightly packed ideas leave little room for the metaphorical sardine that's going to make some wiggle room.
When your ideas are dense, there's no room to learn something new on that topic because your notions are as hard as cement. You then become, to quote Lucy van Pelt, a "Blockhead."
"That's how it is" is a tightly packed idea, especially if there is an abundance of information available that suggests it isn't. But when we are dense on a topic, we lose our ability to use the critical thinking we all possess because it can't get between the sardines.
There must be a solution to create space in a densely packed area. Surprisingly, It's not more facts. Reminds me of a story . . .
I had some workmen in my house recently who were listening to a conservative talk show on the radio as they worked. I mentioned that I had done a talk show on the radio during my broadcasting career. They began asking me about different talk show hosts and my opinions on them. Rather than give them my opinion on a specific host, I broadened the discussion about why one brand of talk show is more popular than another.
"The most successful talk shows are conservative talk shows," I said. Any ratings survey will back up my assertion. I went on to say that progressive or liberal talk shows don't fare as well because they rely on the facts too much and don't do what conservative talk show hosts do best – tug at your emotions.
The formula is simple. If you are a liberal talk show host, you line up all the disparate facts and you, like a prosecutor, walk your listeners through a timeline and expect them to come to the conclusion you logically expect. The conservative formula is to take a small corner of large picture and get you to focus only on that. They are like defense attorneys who ignore evidence that doesn't support their case and focus on the pieces that will affect you emotionally.
My talk show experience had me come to this conclusion: Most people don't want to work hard at coming to a conclusion. They want it handed to them in a densely packed form with no room for opposing opinions.
So what is the solution to creating more space? Firstly, you have to recognize the density of any belief or idea that you own and then make an assessment if it's getting in the way of you enjoying life more. If you find that your density is causing you pain (having to be right is a major self-infliction of pain), your job is to observe your mind at work.
What we normally do is join the discussion in our mind and have a back and forth argument – much like the daily fare on a talk show. The key to making more room is to observe the arguments being made as a spectator and not a participant. You then get separation from the ideas because you discover that your ideas are not you. You are the observer, not the idea.
Once you discover that you are not the ideas in your mind but the observer of the ideas, the ideas and beliefs become less dense. The more you observe, the more open you become. The more open you become, the more options you have.
If you want to remain dense and right, keep making arguments for your limitations and you will insure two things:
1. Your pain will stay in place.
2. You won't learn anything new about you.
Observe your density and increase your propensity for more pleasure.
All the best,
John
Be Sociable, Share!