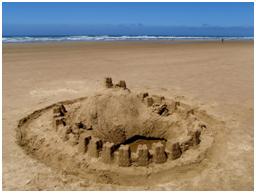 Yesterday I was at the beach, and with my toes properly nestled into the wet sand at the water's edge, I heard The Grasshopper ask, "What are you giving up to be you?"

There is a price to pay for keeping who we "think" we are polished and on display. I'm not sure we've ever done the arithmetic, because if we did we'd have the answer to the question: What does being you cost you?
We regularly give up our peace of mind and our enjoyment of life in order to prop up something that has the stability of a sandcastle – our false notion of who we are.
We are giving up precious resources in order to maintain a way of life that's not working.
We create pain for ourselves every day by justifying that it be "my" way.
Is your way working? The answer is "No" if you are regularly feeling pain about your choices. That pain reoccurs every time you choose a course of action that justifies making another addition to your sandcastle.
You simply can't afford to be you. You'll eventually go bankrupt and be swept out to sea.
Being you is a costly venture that pays no dividends, other than saying, "I'm right."
What are you giving up to be you? Relationships? Connectedness? Your Life?
You'll know you are buying into a way of life you can't afford when you count up the justifications you attempt to pay for it with.
The more justifications you have, the less life you have. Another way to ask what The Grasshopper asked is: What justifications do you need to give up to enjoy a fuller life?
I'm sure an old cowboy once said, "When you stick to your guns you eventually shoot yourself in the foot." If your justifications are glued to you, you have found the price you are paying for your pain.
Today's Reflection: Are you are giving up the fullness of life in order to be you?
All the best,
John
ACCOMPLISH ANYTHING
LOSE WEIGHT & KEEP IT OFF
STOP SMOKING FOREVER
SLEEP THROUGH THE NIGHT EVERY NIGHT
IMPROVE YOUR SELF CONFIDENCE
I LOVE MY BODY
RELAX IN 2 MINUTES
FEEL FOREVER YOUNG
VIRTUAL MASSAGE
Be Sociable, Share!
Comments Off

on A Price to Pay